Manufacturing Factories in Mexico
Find out how easy it is to manufacture in Mexico. With over 400,000 square feet, NovaLink's Manufacturing Factories in Mexico can meet your needs.
NovaLink has Manufacturing Factories in Mexico to Meet Your Production Needs
In addition to operating two 200,000-square-foot Mexico Manufacturing factories in the city of Matamoros, NovaLink operates a 78,000-square-foot manufacturing facility in Saltillo, Mexico, and a 60,000-square-foot distribution facility in Brownsville, Texas.  The space in these manufacturing facilities is allocated based on the needs of customers.   A full service manufacturing line typically requires 30,000 square feet.  
Typical manufacturing in Mexico facilities available for rent are 50,000 square feet. Our unique model allows NovaLink clients to reduce manufacturing costs by only paying for occupied space, needed labor, and shipping G&A. The Brownsville distribution center offers full warehouse services for clients.
On a daily basis, this location ships approximately $2 million worth of full-package manufacturing products to 200 locations all over the world.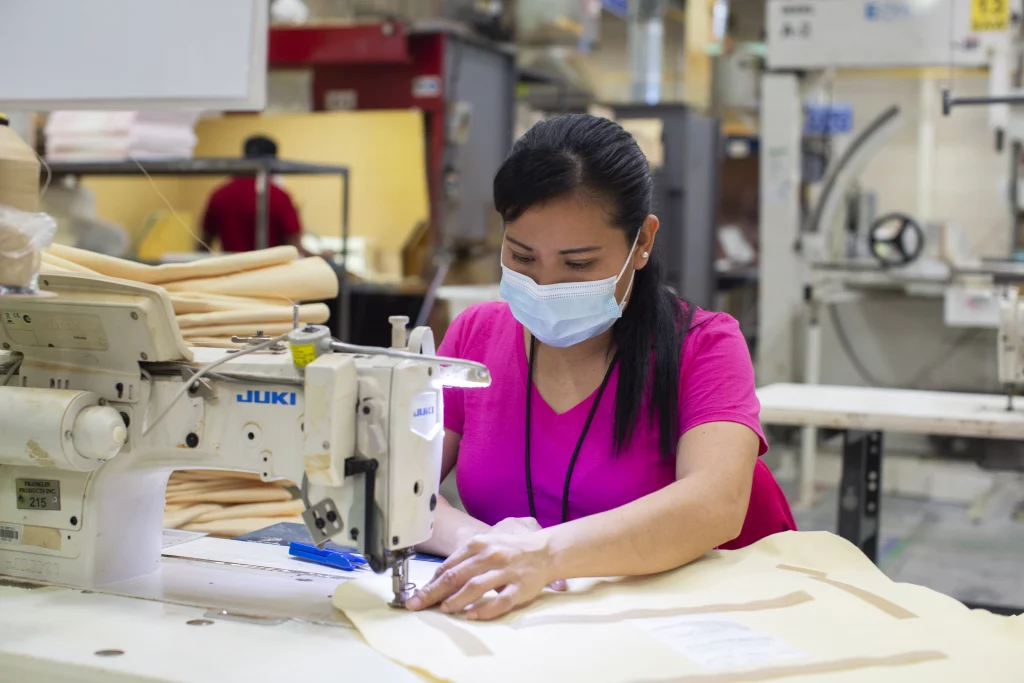 NovaLink Manufacturing Facility Video
NovaLink has released a new video highlighting the versatility of their manufacturing facility in Matamoros, Mexico. In this video, you will be able to see the factory and its associates in action. The video, which was filmed on the floor of the manufacturing facility, illustrates the variety of manufacturing operations and the wide range of skills represented by the workforce. As well as demonstrating NovaLink's commitment to first class manufacturing, the video also emphasizes its commitment to safety protocols for the health of its workers and clients.
Distribution Center: Warehousing, Logistics and Fulfillment
NovaLink also offers warehousing and storage services for its customers. You can drop-ship products directly to your customers, and we'll have them there in a hurry from the time the order is received at our facility. We can also ship bulk back to your operations or direct to retail.
Our Facilities
NovaLink clients can reduce overhead costs by only paying for occupied space, labor, and shipping G&A, thanks to our unique model. Brownsville's distribution center has a full warehouse for clients. On a daily basis, this location moves $2 million in product to 200 locations across the U.S. and the world.
Brownsville Distribution Facility

NovaLink's Brownsville distribution facility located at 3301 Nafta Parkway, Suite A Brownsville, Texas 78526, has 60,000 square feet in production and is conveniently located only 30 minutes from the NovaLink Matamoros facility and company headquarters.
Matamoros Facility

NovaLink's Matamoros facility located at Ave. Prolongación Calle Industrial #196 A Parque Industrial del Norte Matamoros, Tamaulipas 87316 Mexico, features 2 buildings of manufacturing space in addition to the NovaLink Headquarters. Novalink's Mexico shelter manufacturing services are done primarily at these locations.

Nova A: 203,172 sq. ft of manufacturing space
Nova B: 201,739 sq. ft of manufacturing space.

Where Are Brownsville and Matamoros?
Brownsville, TX is located on the far-south border of Texas, and Matamoros, Tamaulipas, Mexico, is located just across the Mexican border, on the southern bank of the Rio Grande.
In Tamaulipas, the manufacturing industry is primary to the economy's health. Tamaulipas ranks fifth among the states with the fastest growth along Mexico's northern border.
Explore Other Resources
Please explore these other useful resources to better understand NovaLink Made in Mexico manufacturing:
Are You Ready to Begin Manufacturing in Mexico? Contact Us for a Free Consultation