Managing Mexico Supply Chain Services
NovaLink's Mexico Supply Chain Services handle the movement of equipment, raw materials, and finished goods across the U.S./Mexico border. When raw materials and finished goods are exported across the border, they can be costly if handled improperly.
Manufacturing in Mexico vs. China is an easy choice when considering options to shorten your supply chain. Here are just a few of the Nearshore Manufacturing Services offered by NovaLink:
Sourcing and Procurement
Inventory/Warehouse Management
Finished Product Distribution
Transportation
Customs Brokerage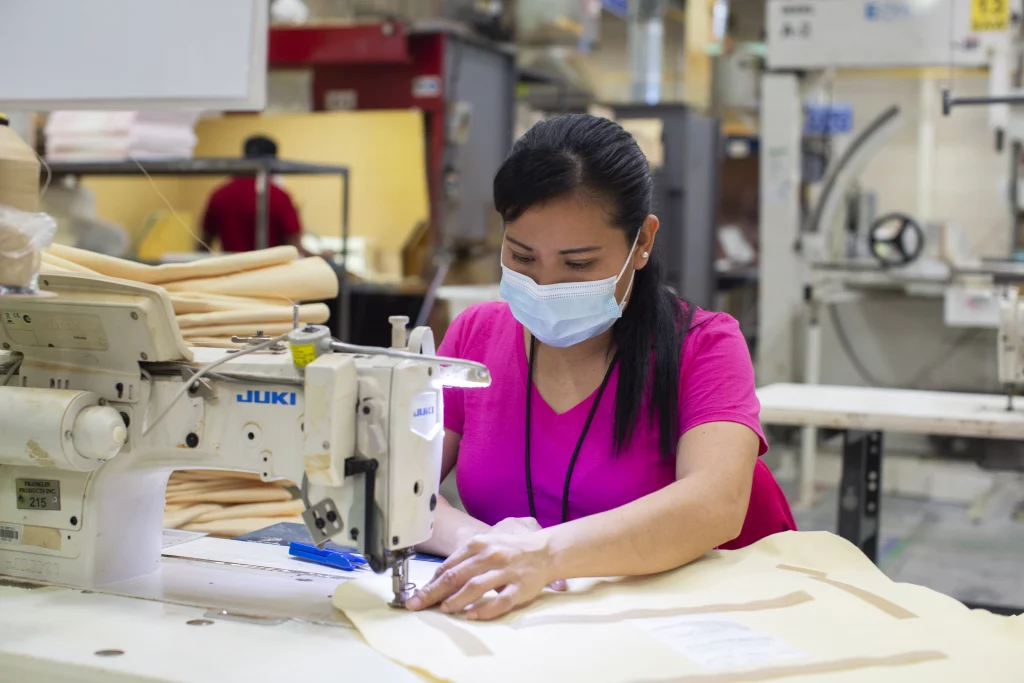 NovaLink Manufacturing Facility Video
NovaLink has released a new video highlighting the versatility of their manufacturing facility in Matamoros, Mexico. In this video, you will be able to see the factory and its associates in action. The video, which was filmed on the floor of the manufacturing facility, illustrates the variety of manufacturing operations and the wide range of skills represented by the workforce. As well as demonstrating NovaLink's commitment to first class manufacturing, the video also emphasizes its commitment to safety protocols for the health of its workers and clients.
---

Supply Chains: 6 Key Values
We at NovaLink believe that manufacturing in Mexico should be simple, fast, and cost-effective. To understand the importance of a good supply chain to your manufacturing operations, please review the following graphic.
Supply Chain Questions You Should Answer Before Manufacturing in Mexico
You should always ask prospective manufacturing partners for specific supply chain metrics to make sure they're capable of producing your product. Here are a few questions you should ask before reshoring manufacturing to Mexico:
Turnover rate: Is your partner able to sustain a labor pool for his projects and increase them when needed?
Factory costs: Is there some unforeseen overhead you may not have expected or need to plan for?
Transportation costs: Again, with regards to location, what are the average costs and expenses related to the transportation of your goods to market?
Port of Entry time for crossing trailers: If you have decided on a shelter manufacturing partner, what is the average time it takes for your goods to be transported across the border into the U.S.?
Why U.S. Companies Are Moving Their Supply Chains From China to Mexico
Does Mexico have supply chain issues? In spite of the fact that all exporting companies face supply chain challenges, Mexico seems to face fewer challenges than other manufacturing countries, such as China. Supply Chain Brain has a list of reasons why companies are moving their supply chains from China to Mexico.
Ground Transport
Goods can be imported from Mexico via ground transport in a matter of days or even hours. This is never an option for goods manufactured in China, from which everything must come by ocean or air. The former is very time consuming (it can often take weeks), and the latter is very expensive.
"Trusted Partner" Status for Customs
The U.S. offers two programs that help facilitate faster and easier Customs processing for U.S.-Mexico trade: FAST and C-TPAT. Initiated after 9/11, FAST is a trusted traveler/trusted shipper program that allows expedited processing for commercial carriers who have completed background checks and fulfill certain eligibility requirements (much like TSA Precheck for air travelers). FAST certification is for drivers; C-TPAT is a broader program that shippers must apply for. Once a company is certified for C-TPAT, its drivers can then apply for FAST. There are no such programs for U.S.-China trade.
A Transparent Landscape
There are also new modern options for transport that make Mexico attractive. Companies can coordinate door-to-door transportation between the U.S. and Mexico, including procurement of trucks on both sides of the border, customs clearance, insurance, financing, and reporting. This allows manufacturers to focus on their core competency, rather than logistics, and can also reduce the need for big in-house shipping and logistics teams.
Small Language Barrier
Spanish is the second-most common language spoken in the U.S., making it relatively easy to communicate with partners in Mexico (and find bilingual staff and vendors).
Spanish is the second-most common language spoken in the U.S., making it relatively easy to communicate with partners in Mexico (and find bilingual staff and vendors).
Time to Market is an Advantage to Mexico Manufacturers
Establishing manufacturing facilities overseas as a cost-saving measure for labor and production has been a common practice; however, businesses that want to start manufacturing operations in Asia consistently do not take into account the other costs that must be incurred with an overseas operation: the most important of these is shipping your completed items back to the US. Time to market and keep your supply chains open and running smoothly will be crucial to the success of your full service manufacturing operation.
Distribution Center: Warehousing, Logistics and Fulfillment
NovaLink also offers warehousing and storage services for its customers. You can drop-ship products directly to your customers, and we'll have them there in a hurry from the time the order is received at our facility. We can also ship bulk back to your operations or direct to retail.
---
Are You Ready to Begin Manufacturing in Mexico? Contact Us for a Free Consultation