Full Service Manufacturing
The unique manufacturing model we have developed allows customers to explore full service manufacturing in Mexico without taking a significant risk.
NovaLink: Your Gateway to Full-Service Manufacturing Excellence in Mexico
At NovaLink, we're your premier destination for comprehensive full-service manufacturing solutions in Mexico. With a legacy of excellence spanning years, we've earned our reputation as a trailblazer in the industry. Our commitment to innovation, quality, and sustainability sets us apart.
Why Choose NovaLink?
Full-Service Manufacturing Expertise: From concept to delivery, we offer end-to-end manufacturing services, ensuring a seamless production process.
Nearshore Advantage: Strategically located in Mexico, we reduce lead times, enhance cost control, and fortify your supply chain's resilience.
Technological Prowess: Embracing Industry 4.0, we leverage automation, IoT, and AI to optimize efficiency and quality.
Sustainability Focus: Our green manufacturing practices and eco-friendly approach meet the growing demand for responsible production.
Skilled Workforce: Our highly adaptable team is equipped with ongoing training, ensuring they meet the demands of modern manufacturing.
Regulatory Excellence: Navigating complex international regulations is our strength, guaranteeing compliance and peace of mind for our partners.
Customization & Collaboration: We thrive on customization to meet diverse consumer preferences and believe in forging strong partnerships to achieve success.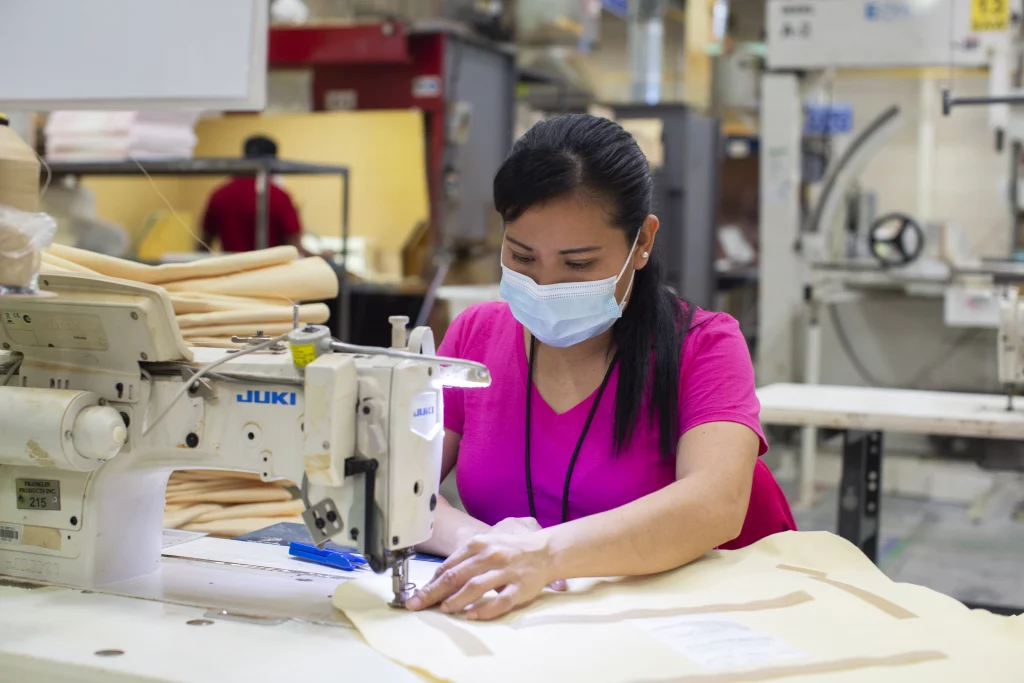 NovaLink Manufacturing Facility Video
NovaLink has released a new video highlighting the versatility of their manufacturing facility in Matamoros, Mexico. In this video, you will be able to see the factory and its associates in action. The video, which was filmed on the floor of the manufacturing facility, illustrates the variety of manufacturing operations and the wide range of skills represented by the workforce. As well as demonstrating NovaLink's commitment to first class manufacturing, the video also emphasizes its commitment to safety protocols for the health of its workers and clients.
---
Full Service Manufacturing vs. Full Package Manufacturing
The full package manufacturing industry is often associated with the garment and textile industries, but it can also include other kinds of manufacturing such as electronics or product assembly.
FPM companies take care of everything when it comes to garment or product creation. With FPM partners you can get end-to-end services: procurement, assembly, and distribution are all done in one place so clients don't have to worry about doing it themselves.

What is Full Service Manufacturing?
Full-service manufacturing refers to manufacturers who provide end-to-end services other than just product assembly: procurement, assembly, and distribution are offered as "one-stop-shopping" to clients, who are then relieved of having to handle these functions themselves.
The NovaLink Advantage
NovaLink is committed to the philosophy that transitioning manufacturing to Mexico should be an easy, rapid and cost-effective process. We offer the following advantages to enable our customers to succeed.
Ability to Scale

NovaLink can initiate a manufacturing relationship with a floor plan as small as 5,000 square feet. Once the relationship has been established, and proven successful, customers can scale up to 100,000 square feet or more. It also permits larger customers to scale down if the customers' business experiences a need to reduce overall capacity.
Attractive Labor Pool

Mexico has made large strides in developing a world class labor market. NovaLink has positioned itself and helped develop a geographical market of labor that is pro-business resulting in lower than normal turnover rates.
No Significant Upfront Capital Commitment

NovaLink client's are not required to enter into any long-term lease obligations or purchase new equipment (if currently owned). Furthermore, the client's equipment can be shipped to NovaLink's facilities in stages as production ramps to ensure quality control.
Quick Turnaround

With our proximity to market, short lead times are met with turns from order placement as short as five days.
Simple Pricing

NovaLink offers a variety of pricing models to accommodate unique client needs. These range from fully loaded hourly rates to a full package model where NovaLink provides the raw materials and equipment.
Site Selection and Raw Materials Procurement

NovaLink can accommodate your operations within our current facilities, or if you prefer your own facility, assist in site selection, secure all permitting requirements and coordinate this effort with a builder or landlord. Many of our customers have dedicated suppliers in place, but for those that do not, NovaLink will assist in source materials and provide cost estimates.

Frequently Asked Questions: How Much Does It Cost to Start a Company in Mexico?
Before you can determine how much does it cost to start a company in Mexico, you will need to address a number of issues and misconceptions associated with starting a manufacturing operation.
What type of products do you want to manufacture?

There will be different issues depending on the type of goods you want to make and how you intend to import them back into the United States. It will be less expensive to procure materials and create a simple product, like a garment, while it will be more difficult to make a complex product, like an electronic device. The location of your manufacturing operations is crucial determining the cost to start a company in Mexico.
Do you wish to start on your own or do you want to use a shelter model?

Foreign manufacturers can open maquiladoras in Mexico through the shelter manufacturing model without going through the paperwork required to establish a Mexican company. Your manufacturing will run cheaper if you do everything yourself in Mexico, but it will also take a lot longer and be more challenging.
Manufacturing Products That Can Be Assembled in Mexico
You may have to sub-assemble a product to have it fully assembled. Manufacturing sub-assemblies can be a lot of work and, depending on how complex your product is, very expensive. Just like any complex manufacturing task, the easy solution might be right south of the border: Mexico.
Are You Ready to Begin Manufacturing in Mexico? Contact Us for a Free Consultation