Last Updated on June 13, 2023
Globalization has made it increasingly important for businesses to choose the right country for manufacturing to optimize their operations and maximize their value. Mexican and Chinese manufacturers are two of the most prominent players in the manufacturing industry. There are many advantages and considerations unique to each country. This article explores the benefits of manufacturing in Mexico versus China, helping businesses make an informed decision that aligns with their goals and requirements.
Cost Factors
When considering the benefits of manufacturing in Mexico versus China, cost plays a pivotal role. Mexico and China differ in terms of labor costs, regulations, raw material expenses, and transportation fees. In Mexico, labor costs are generally lower than in China, primarily due to the disparity in minimum wages and labor regulations. Additionally, Mexico's proximity to the United States allows for reduced shipping times and lower transportation costs for businesses serving the North American market.

Proximity to Market
Proximity to the target market is a significant advantage for businesses. Mexico's close proximity to North America gives it a competitive edge in terms of reduced lead times, improved supply chain efficiency, and lower logistics expenses. With shorter distances to travel, businesses manufacturing in Mexico can respond faster to market demands and potentially achieve cost savings compared to those relying on manufacturing in China.
Trade Agreements and Tariffs
Mexico has established robust trade agreements, particularly with the United States, through initiatives like the United States-Mexico-Canada Agreement (USMCA). These agreements provide businesses manufacturing in Mexico with preferential access to the North American market, reducing trade barriers and offering cost advantages. On the other hand, China's trade policies and tariffs can pose challenges for businesses, potentially affecting their competitiveness and profitability.
Intellectual Property Protection
Safeguarding intellectual property is crucial for businesses. While both Mexico and China have made strides in improving their intellectual property protection laws, there are still notable differences. Mexico offers a legal framework that aligns more closely with international standards, providing a level of comfort for businesses concerned about protecting their intellectual assets.
Manufacturing Capabilities and Infrastructure
Mexico has emerged as a manufacturing powerhouse, boasting advanced capabilities and a well-developed infrastructure. The country has become a preferred destination for various industries, including automotive, aerospace, electronics, and medical devices. China, on the other hand, has a long-standing reputation as the "world's factory" and offers a wide range of manufacturing capabilities. Comparing Mexico's industry specialization and technological advancements to China's scale and diversity is essential for businesses to identify the best fit for their manufacturing needs.
Skilled Workforce
Access to a skilled workforce is vital for manufacturing success. Both Mexico and China have a large labor pool, but their educational systems and vocational training programs differ. Mexico has invested in developing technical education and collaborating with the industry to bridge skill gaps. China's emphasis on science, technology, engineering, and mathematics (STEM) education has contributed to a highly skilled workforce. Evaluating the availability and quality of skilled labor is crucial for businesses considering either country.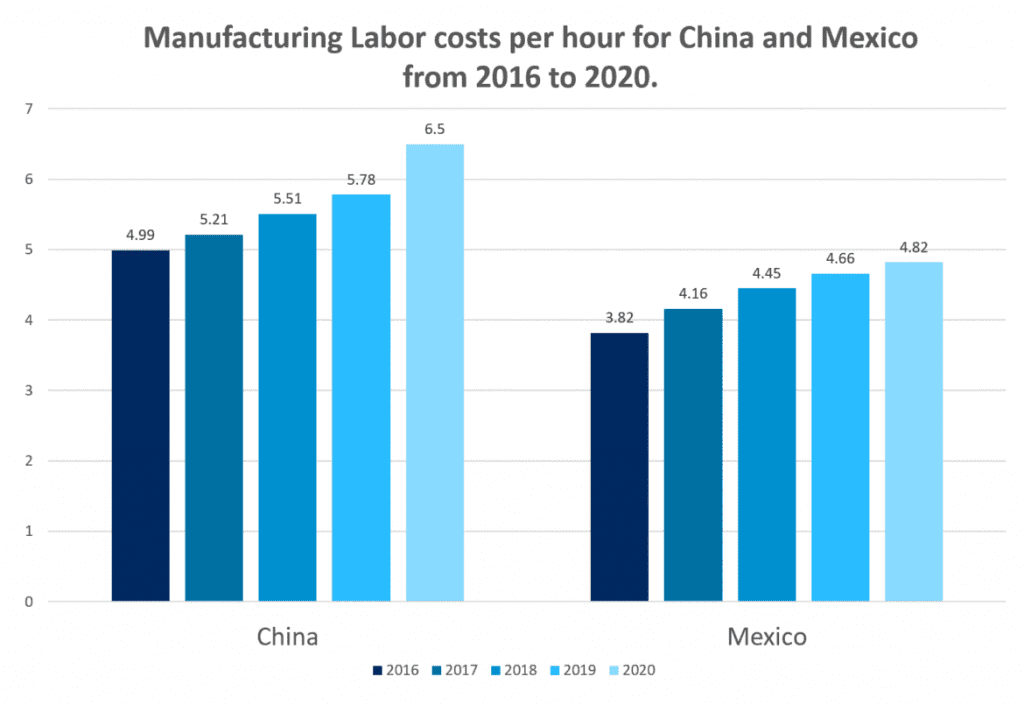 Cultural and Language Factors
Cultural compatibility and language proficiency are important considerations when establishing manufacturing operations abroad. Mexico shares a closer cultural affinity and language proximity with North America, enabling smoother communication and alignment of business practices. China, on the other hand, has a distinct cultural context and language, which may require businesses to invest in language training and cultural understanding. Understanding these factors helps businesses navigate potential challenges and build effective relationships.
Risk and Stability
Political stability and the overall business environment are crucial for sustained manufacturing operations. Mexico has made significant progress in creating a stable business environment and nurturing investor confidence. Its democratic institutions and favorable regulations contribute to a predictable operating environment. China, while offering immense market opportunities, also comes with geopolitical risks and regulatory uncertainties that businesses need to consider. Understanding the risk and stability factors of both countries is essential for mitigating potential disruptions and ensuring the long-term viability of manufacturing operations.
The Mexican economy continues to defy the global downturn with positive numbers in 2023. The International Monetary Fund (IMF) raised its forecast for Mexico's 2023 GDP growth in January. Its strong automotive, agriculture, and tourism sectors have helped it stay afloat alongside a rise in nearshoring. Despite rising inflation, Mexico´s rate of 7.9 percent puts it in a better condition than other Latin American countries like Colombia, Chile, and Peru. Now is a great time to be investing in Mexico business opportunities before the market becomes oversaturated.

Mexico Business Opportunities: Why is Mexico the best country for doing business in 2023?
Supply Chain Resilience
The COVID-19 pandemic highlighted the importance of a resilient supply chain. Mexico's geographical proximity to the United States and its integration into North American supply chains provide a certain level of resilience. With shorter supply lines, businesses manufacturing in Mexico can better adapt to disruptions and reduce dependency on distant suppliers. China, on the other hand, possesses a vast and mature supply chain ecosystem with extensive capabilities. Evaluating the resilience and flexibility of supply chains in Mexico and China is crucial for businesses seeking to enhance their operational agility.
Environmental Considerations
In today's environmentally conscious world, businesses are increasingly prioritizing sustainable manufacturing practices. Mexico has made significant strides in implementing environmental regulations and promoting sustainability initiatives. Its commitment to renewable energy, waste management, and eco-friendly practices presents an advantage for businesses focused on reducing their environmental footprint. China, as a global manufacturing leader, has also recognized the need for sustainable practices, although certain regions may still face challenges related to pollution and environmental regulations. Assessing the environmental considerations of both countries is vital for businesses aiming to align their manufacturing processes with sustainability goals.
Conclusion: Mexico Offers Distinct Advantages Over China
Choosing between the benefits of manufacturing in Mexico versus China requires careful consideration of multiple factors. While China has long been known as the global manufacturing hub, Mexico offers distinct advantages, including cost competitiveness, proximity to the North American market, trade agreements, intellectual property protection, and a skilled workforce. Additionally, Mexico's growing manufacturing capabilities, stable business environment, supply chain resilience, and emphasis on sustainability contribute to its appeal.
Ultimately, businesses must assess their unique requirements, industry-specific considerations, and long-term goals to determine which country offers the most value for their manufacturing operations. By weighing the benefits and drawbacks of manufacturing in Mexico versus China, businesses can make an informed decision that aligns with their strategic objectives, enhances their competitiveness, and fosters long-term success.
FAQs:
Q: What are the key cost factors to consider when deciding between manufacturing in Mexico and China?
A; Key cost factors to consider when deciding between manufacturing in Mexico and China include labor costs, logistics costs, shipping expenses, tariffs and trade barriers, and supply chain complexity.
Q: How does proximity to the market impact manufacturing decisions?
Proximity to the market impacts manufacturing decisions by reducing transportation costs, improving responsiveness, and facilitating easier market access.
Q: What trade agreements does Mexico have that benefit businesses?
Mexico has trade agreements such as the United States-Mexico-Canada Agreement (USMCA), the European Union-Mexico Free Trade Agreement, and participation in the Pacific Alliance that benefit businesses.
Q: What are the intellectual property protection laws like in Mexico and China?
Intellectual property protection laws in Mexico and China have been strengthened, but enforcement and effectiveness may vary.
Q: How do cultural and language factors influence manufacturing operations in these countries?
Cultural and language factors influence manufacturing operations in these countries through communication challenges, cross-cultural training needs, and relationship building with local stakeholders.
About NovaLink
As a manufacturer in Mexico, NovaLink employs a unique approach that transcends the traditional model of shelter production. More than just the location of your manufacturing, we would like to become a partner in your manufacturing in Mexico. You will be able to relocate or initiate manufacturing for your company in Mexico in a low-cost labor environment with very little delay or up-front costs. Find out how we can help you by handling the manufacturing process.
There are NovaLink facilities in the border cities of Brownsville, Texas, Matamoros, Mexico, and Saltillo, Mexico.
Explore More: Discover Related Blog Posts
Expand your knowledge and delve deeper into manufacturing in Mexico vs. China with our curated collection of related blog posts.