Last Updated on June 13, 2023
When it comes to manufacturing, companies are always looking for ways to reduce costs while maintaining quality. One of the biggest factors in this equation is the workforce. In this article, we'll compare the workforce in Mexico and China to determine which is more skilled and cost-effective.
The Workforce in Mexico vs. China: A Comparative Analysis
The Workforce in Mexico
Mexico has emerged as a major player in the manufacturing industry due to its proximity to the United States and strong trade agreements. The country boasts a sizable workforce with diverse skill sets, making it an attractive option for businesses looking to establish or expand manufacturing operations.
Skill Level in Mexico
When it comes to the Mexican workforce's skill level, there is a wide range of capabilities available. The country has a robust education system that produces graduates in various technical and engineering fields. Mexico has invested heavily in vocational training programs to enhance its workforce's skill sets, particularly in areas such as automotive manufacturing, aerospace, and electronics.

Source: LinkedIn "Stem Workforce in Mexico" https://www.linkedin.com/pulse/stem-workforce-mexico-robin-conklen/
Moreover, Mexico's proximity to the United States has allowed knowledge transfer and collaboration between Mexican and American companies. This has further contributed to Mexican workers' specialized skills development. Companies operating in Mexico can leverage this skilled workforce to achieve high-quality production and innovation.
Cost Factors in Mexico
In addition to skill level, cost factors play a crucial role in business decision-making. Mexico offers competitive labor costs compared to many developed countries, including the United States. Mexico's lower cost of living and wages make it an attractive destination for companies seeking to optimize their production costs while maintaining quality.
Mexico also offers tax incentives and free trade agreements that can further reduce business costs. These factors, combined with the availability of a skilled workforce, make Mexico an appealing choice for companies looking to streamline their manufacturing operations.
The Workforce in China
China, often referred to as the "factory of the world," has long been a dominant force in global manufacturing. The country's massive population and industrial infrastructure have made it a manufacturing powerhouse. Let's explore the skill level and cost factors associated with the Chinese workforce.
Skill Level in China
China has made significant progress in improving its workforce's skill level over the years. The country has invested heavily in its education system, with a focus on the science, technology, engineering, and mathematics (STEM) fields. Chinese universities produce a large number of graduates in engineering and technical disciplines, ensuring a steady supply of skilled workers for the manufacturing sector.
Additionally, China's emphasis on vocational training programs and apprenticeships has further enhanced its workforce's skill sets. The country's strong work ethic and dedication to continuous improvement also contribute to its manufacturing excellence reputation.
Cost Factor in China
While China has long been associated with low labor costs, it is essential to note that wages have steadily increased in recent years. As the country's economy grows and labor rights become more of a focus, companies operating in China must navigate increased labor costs.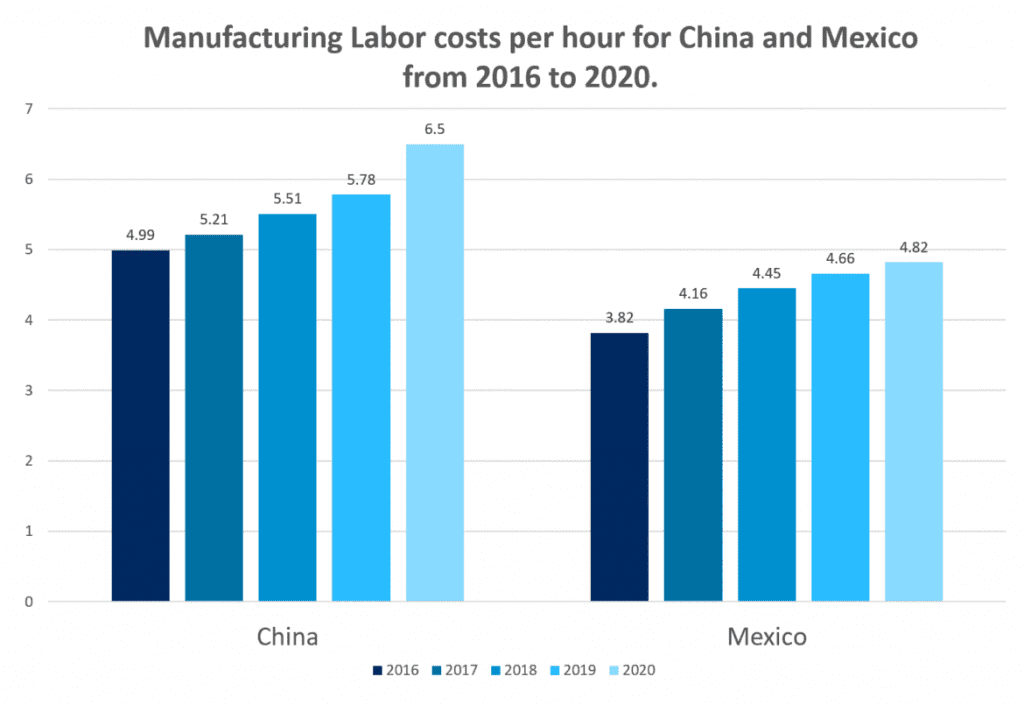 However, despite these rising costs, China still offers competitive advantages in terms of economies of scale and an extensive supply chain network. The country's established infrastructure and access to raw materials contribute to manufacturing cost efficiencies.
Conclusion
Choosing between Mexico and China for manufacturing operations involves careful consideration of various factors, including the skill level and cost-effectiveness of the workforce. Both countries offer unique advantages, with Mexico's proximity to the United States and competitive labor costs, and China's vast industrial infrastructure and supply chain network.
FAQs (Frequently Asked Questions)
1. Are there any language barriers when working with the Mexican workforce?
No, language barriers are not a significant concern when working with the Mexican workforce. English proficiency is relatively high among professionals, especially in the manufacturing industry. Additionally, many companies provide language training programs to ensure effective communication and collaboration with international partners.
2. Does China have an advantage in terms of infrastructure compared to Mexico?
Yes, China has a well-developed infrastructure that supports its manufacturing capabilities. The country has invested heavily in building highways, railways, ports, and other transportation systems. These infrastructure developments facilitate the movement of goods, raw materials, and workers, contributing to the overall efficiency of the manufacturing sector.
3. Which country offers better intellectual property protection?
China has taken significant steps in recent years to improve its intellectual property protection laws and regulations. While there have been concerns in the past, the Chinese government has shown a commitment to enforcing intellectual property rights. Mexico also has a legal framework in place to protect intellectual property, but the enforcement may vary compared to China.
4. How does the cultural aspect influence the workforce in Mexico and China?
Culture plays a significant role in the workplace dynamics of both Mexico and China. Mexican culture is known for its warmth, hospitality, and strong family values. In contrast, Chinese culture emphasizes discipline, hierarchy, and collective harmony. These cultural differences can influence management styles, communication approaches, and teamwork within organizations.
5. What are the key considerations for businesses when choosing between Mexico and China?
When choosing between Mexico and China, businesses should consider factors such as skill sets required for their specific industry, cost considerations, market access, intellectual property protection, infrastructure, and cultural compatibility. Conducting a thorough analysis of these factors will help businesses make an informed decision that aligns with their strategic objectives.
6. Is it possible to benefit from the advantages of both Mexico and China?
Yes, some companies choose to leverage the advantages of both Mexico and China. This approach, known as nearshoring, involves establishing manufacturing operations in Mexico to cater to the North American market while maintaining a presence in China to tap into the Asian market. By strategically utilizing the strengths of each country, businesses can maximize their competitiveness and market reach.
About NovaLink
As a manufacturer in Mexico, NovaLink employs a unique approach that transcends the traditional model of shelter production. More than just the location of your manufacturing, we would like to become a partner in your manufacturing in Mexico. You will be able to relocate or initiate manufacturing for your company in Mexico in a low-cost labor environment with very little delay or up-front costs. Find out how we can help you by handling the manufacturing process.
There are NovaLink facilities in the border cities of Brownsville, Texas, Matamoros, Mexico, and Saltillo, Mexico.
Explore More: Discover Related Blog Posts
Expand your knowledge and delve deeper into manufacturing in Mexico vs. China with our curated collection of related blog posts.