Mexican Clothing Manufacturing
NovaLink has over 30 years experience in Mexican clothing manufacturing. We excel producing quality textile products. Contact us for a free estimate.
NovaLink has Extensive Mexican Clothing Manufacturing Experience
As a company with skilled labor, equipment, and plenty of factory space, along with the experience to produce quality textile products, NovaLink is able to ensure the success of any Mexican clothing manufacturing project.
Some of the clients NovaLink has provided contract Manufacturing in Mexico services for include:
Nike
Fruit of the Loom
Land's End
LL Bean
VF Knitwear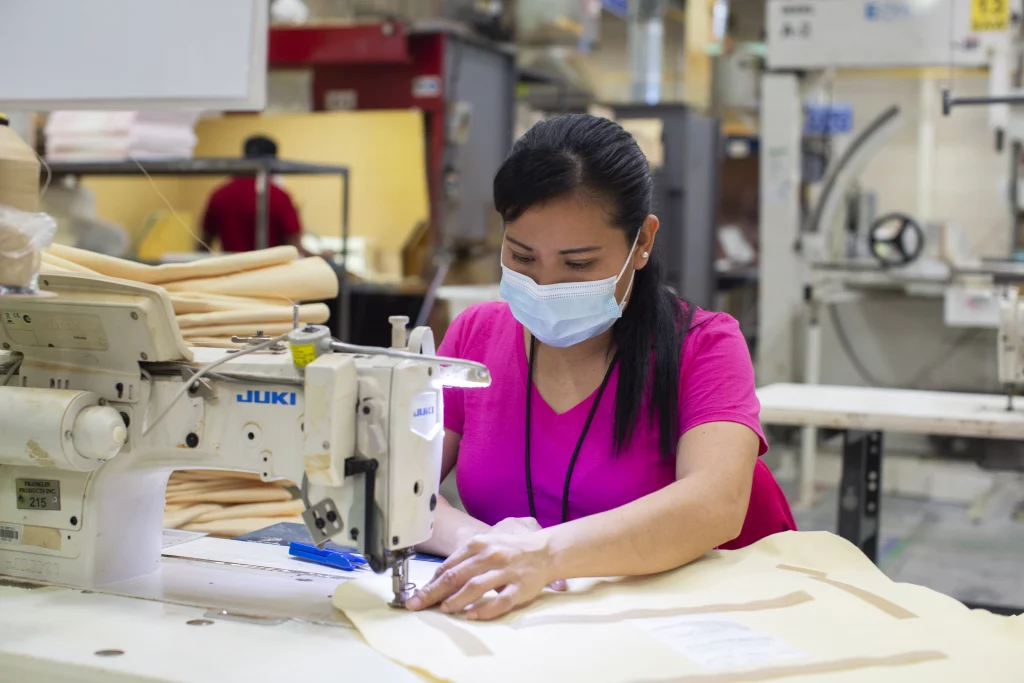 NovaLink Manufacturing Facility Video
NovaLink has released a new video highlighting the versatility of their manufacturing facility in Matamoros, Mexico. In this video, you will be able to see the factory and its associates in action. The video, which was filmed on the floor of the manufacturing facility, illustrates the variety of manufacturing operations and the wide range of skills represented by the workforce. As well as demonstrating NovaLink's commitment to first class manufacturing, the video also emphasizes its commitment to safety protocols for the health of its workers and clients.
---
What Is a Maquiladora?
The term "Maquiladora" refers to a manufacturing solution created in the 1960s to take advantage of preferential tariff agreements between the U.S. and Mexico & to encourage foreign investment in that country. Maquiladoras in Mexico are now referred to as IMMEX (Industría Manufacturera Maquiladora y de Servicio de Exportación). A Maquiladora in Mexico is a factory or plant that is located near the Mexico/U.S. border. It is staffed by Mexican workers, but owned and operated by a U.S. company (although other countries, such as China, can also operate a Maquiladora). A Maquiladora allows manufacturers to operate duty-free and tariff-free. Businesses outsourcing their manufacturing needs can benefit from this approach in many ways. These needs may result from cost competitiveness or the availability of labor to meet demand.
Our Sewing Equipment and Services
A full-service Mexican clothing manufacturing company, we offer a variety of services to a variety of industries and have the equipment to produce almost any textile item. Please find a sample of our equipment and capabilities.
Cut & Sew Equipment

Multi head Embroidery
Label Heat Seal
Lockstitch Sewing Machines
Straight Stitch Sewing Machines
Single & Double Needle Walking Foot Sewing Machines
3-5 Thread Overlock Sewing Machines/Sergers
Flat Seam
Zig-Zag Machine Sewing Machines
Box Stitch
Die Cutter
Fabric Spreader
Gerber Cutting
Rotary Blade Cutter & Vertical Fabric Saw
Leather / Natural
Grommet Press
Over Arm Sewing Machines
We offer a variety of clothing manufacturing services and industries

Design Consultation / Engineering
Pattern Making
Prototyping & Sampling
Pattern Making
Grading & Nesting
Fabric / Component Sourcing
Technical Design & Quality Control
Process Engineering
Time studies
Line Layout
Cutting
Sewing
Automotive
Garment
Fashion
Aviation – Seating/Pillows/Blankets
Commercial Seating
Marine
Military/Recreational Covers
Athletic Wear
Industrial Safety
Promotional Products
Hospitality Bedding
Medical Curtains
Medical Devices
Outdoor/Indoor cushion/Pillow
White paper: 5 Reasons Why Nearshore Manufacturing is a Perfect Fit for Mexico's Textile and Apparel Industry
Mexico's textile and apparel industries are becoming more diversified and expanding with newer investments in technology and infrastructure. If your company is seeking Mexico contract manufacturing for garment and textile manufacturing, there is no better fit than NovaLink. Here are 5 reasons why.
The NovaLink Advantage
NovaLink is committed to the philosophy that transitioning manufacturing to Mexico should be an easy, rapid and cost-effective process. We offer the following advantages to enable our customers to succeed.
Ability to Scale

NovaLink can initiate a manufacturing relationship with a floor plan as small as 5,000 square feet. Once the relationship has been established, and proven successful, customers can scale up to 100,000 square feet or more. It also permits larger customers to scale down if the customers' business experiences a need to reduce overall capacity.
Attractive Labor Pool

Mexico has made large strides in developing a world class labor market. NovaLink has positioned itself and helped develop a geographical market of labor that is pro-business resulting in lower than normal turnover rates.
No Significant Upfront Capital Commitment

NovaLink client's are not required to enter into any long-term lease obligations or purchase new equipment (if currently owned). Furthermore, the client's equipment can be shipped to NovaLink's facilities in stages as production ramps to ensure quality control.
Quick Turnaround

With our proximity to market, short lead times are met with turns from order placement as short as five days.
Simple Pricing

NovaLink offers a variety of pricing models to accommodate unique client needs. These range from fully loaded hourly rates to a full package model where NovaLink provides the raw materials and equipment.
Site Selection and Raw Materials Procurement

NovaLink can accommodate your operations within our current facilities, or if you prefer your own facility, assist in site selection, secure all permitting requirements and coordinate this effort with a builder or landlord. Many of our customers have dedicated suppliers in place, but for those that do not, NovaLink will assist in source materials and provide cost estimates.
---
Are You Ready to Begin Manufacturing in Mexico? Contact Us for a Free Consultation