Move Manufacturing Out of China​
Your business will benefit from simpler supply chains, no intellectual property theft, & more affordable labor if you Move Manufacturing Out of China​.
Move Manufacturing Out of China with NovaLink
Your business will benefit from simpler supply chains, not having to worry about intellectual property theft, and an easier, more affordable labor pool if you Move Manufacturing Out of China with NovaLink. Since July of 2019, the United States has imposed a 25 percent border tax on goods made from factories in China when they're imported into the US. The goal of this tax, and the other China tariffs, is to make Chinese products more expensive for American consumers and businesses to buy. If your company is currently manufacturing goods in China, your goods will be subject to a 25 percent border tax, which will mean you will either have to raise the price of your goods and pass the expense to your customers or accept a cut into your profit margins.
Moving manufacturing from China: A viable option
However, there is viable solution for companies who may be considering to Move Manufacturing Out of China: Move your company's manufacturing to Mexico. With the new trade agreements between Mexico, Canada and the United States now in place, full package manufacturing between these nations is now easier and more cost effective than ever:
There are no tariffs for products made in Mexico and imported into the United States that meet NAFTA rules of origin requirements.
Lower shipping time for goods to get into the United States
Lower average cost of shipping
Lower number of days to start manufacturing operations
Making the decision to Move Manufacturing Out of China doesn't have to be a complex headache that costs your business money; taking advantage of the Mexico manufacturing advantage with NovaLink, is an easy, seamless process. Contact us today for an evaluation.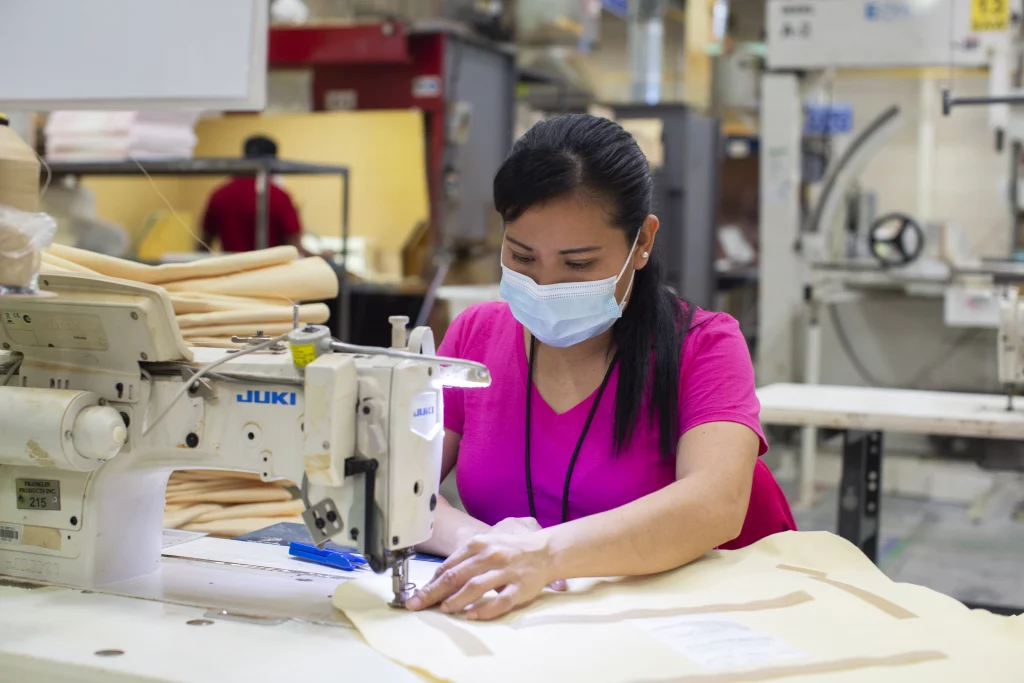 NovaLink Manufacturing Facility Video
NovaLink has released a new video highlighting the versatility of their manufacturing facility in Matamoros, Mexico. In this video, you will be able to see the factory and its associates in action. The video, which was filmed on the floor of the manufacturing facility, illustrates the variety of manufacturing operations and the wide range of skills represented by the workforce. As well as demonstrating NovaLink's commitment to first class manufacturing, the video also emphasizes its commitment to safety protocols for the health of its workers and clients.
Is it Cheaper to Manufacture in Mexico?
While manufacturing in China may provide some immediate cost advantages, it is generally more cost-effective to operate manufacturing operations in Mexico over the long term.
Mexico Manufacturing Advantage
Mexico has emerged as a popular destination for manufacturing due to its strategic location, abundant labor force, and attractive trade agreements. Its proximity to the United States, the world's largest consumer market, allows for easier access to transportation and reduced lead times. Additionally, Mexico has a young and growing workforce, which is highly skilled and competitive in terms of wages. Moreover, Mexico has signed various trade agreements, such as the United States-Mexico-Canada Agreement (USMCA), that provide favorable tariff and duty rates to manufacturers. These advantages have made Mexico an ideal location for manufacturing operations in industries such as automotive, aerospace, and electronics, among others. As a result, many multinational corporations have established their manufacturing facilities in Mexico, taking advantage of the country's manufacturing prowess.
Inexpensive but skilled Maquiladoras Labor

With wages that are up to 80% lower than in the U.S., you can save big on your labor costs without compromising on quality.
Tax Incentives

Mexico offers a range of tax incentives and exemptions for manufacturers, making it even more affordable to do business here.
Free Trade Agreements with 44 Countries

There are 44 countries with which Mexico has free trade agreements. Manufacturers from the United States and Canada have access to Mexico through the United States-Mexico-Canada Agreement (USMCA).
10 Answers to Your Questions About Manufacturing in Mexico
At NovaLink, we believe that starting full service manufacturing operations in Mexico is easy. However, there are many questions we feel potential clients should have answered before they begin their nearshore manufacturing partnership.
Why U.S. Companies Are Moving Their Supply Chains From China to Mexico
Does Mexico have supply chain issues? In spite of the fact that all exporting companies face supply chain challenges, Mexico seems to face fewer challenges than other manufacturing countries, such as China. Supply Chain Brain has a list of reasons why companies are moving their supply chains from China to Mexico.
Ground Transport
Goods can be imported from Mexico via ground transport in a matter of days or even hours. This is never an option for goods manufactured in China, from which everything must come by ocean or air. The former is very time consuming (it can often take weeks), and the latter is very expensive.
"Trusted Partner" Status for Customs
The U.S. offers two programs that help facilitate faster and easier Customs processing for U.S.-Mexico trade: FAST and C-TPAT. Initiated after 9/11, FAST is a trusted traveler/trusted shipper program that allows expedited processing for commercial carriers who have completed background checks and fulfill certain eligibility requirements (much like TSA Precheck for air travelers). FAST certification is for drivers; C-TPAT is a broader program that shippers must apply for. Once a company is certified for C-TPAT, its drivers can then apply for FAST. There are no such programs for U.S.-China trade.
A Transparent Landscape
There are also new modern options for transport that make Mexico attractive. Companies can coordinate door-to-door transportation between the U.S. and Mexico, including procurement of trucks on both sides of the border, customs clearance, insurance, financing, and reporting. This allows manufacturers to focus on their core competency, rather than logistics, and can also reduce the need for big in-house shipping and logistics teams.
Small Language Barrier
Spanish is the second-most common language spoken in the U.S., making it relatively easy to communicate with partners in Mexico (and find bilingual staff and vendors).
Spanish is the second-most common language spoken in the U.S., making it relatively easy to communicate with partners in Mexico (and find bilingual staff and vendors).
Businesses Wishing to Move Manufacturing out of China Will Benefit From the USMCA Treaty.
USMCA stands for United States-Mexico-Canada Agreement, which was signed on November 30, 2018. Essentially, it replaces the North American Free Trade Agreement (NAFTA) which was in place since January 1994. NAFTA slowly phased out tariffs on most goods between North America's three main economic powers. All agricultural and textile products, cars, and other goods had their tariffs reduced or eliminated by 2008. For companies seeking to move manufacturing out of China, the USMCA treaty is a major advantage.
Made in China Myths
Select any of the facts to learn the truth about manufacturing in China.
Are Chinese Facilities Cheaper?
Is Chinese Labor is Cheaper?
Is Chinese Labor is More Productive?

"Mexico has continued to stay more productive than China per worker," Justin Rose, a partner at Boston Consulting Group in Chicago, told Quartz. "Sometime in 2011 or 2012, from a labor-cost perspective, it became cheaper to put manufacturing capacity in Mexico than in China."
Why Are Companies Moving Manufacturing out of China?
Manufacturing is a major industry in China, as we know. A third of supply chain leaders plan to move manufacturing out of China by 2023, according to Gartner research. Here's why so many companies are moving out:
Companies learned from the recent Covid-19 pandemic that they cannot rely on just one supplier. Meanwhile, governments across the globe are trying to get companies out of China. Many companies are considering Mexico as a potential location.
In 2018, the United States imposed tariffs of 25% on Chinese goods. Importing goods from China into the US was therefore very expensive
Three or four decades ago, Chinese labor was one of the cheapest in the world. In recent years, it has greatly increased to $14000/year, which is a huge increase. Manufacturing in China has become more expensive.
Explore Other Resources
Please explore these other useful resources to better understand why your company should move manufacturing out of China:
Are You Ready to Begin Manufacturing in Mexico? Contact Us for a Free Consultation